Konjenital Kalp Hastalığı Olan Farklı Kültürden Bir Öğrencinin Madeleine Leinenger Modeline Göre Değerlendirilmesi: Olgu sunumu

Abstract views: 219 /

PDF downloads: 112
Keywords:
Bakım, Hemşire, Kültürel, Konjenital, Leninger
Abstract
Günümüzde her 1000 canlı doğumdan sekiz bebekte konjenital kalp hastalıkları görülmektedir.  Konjenital kalp hastalıkları arasında %10-15 oranında en sık görülen hastalık ise Atriyal Septal Defekt (ASD)'tir. Leinenger'in üzerinde çalıştığı Transkültürel Hemşirelik modeline göre hemşirelerin  farklı kültürlere uyumlu bakım vermenin sağlanmasında kültürel açıdan değerlendirmeye önem vermektedir. Bu model doğrultusunda üç mod'dan bahsedilir.Bu olgu sunumu; Kültürel  bakımın önemi vurgulamak amacıyla Suriyeli bir  üniversite öğrencisinin ( İ.M ) mevcut olan  ASD hastalığına hemşirelik bakımı planlayıp, bakımın   uygulanması  için yapılmıştır. Alınan bilgiler doğrultusunda İ.M'yi Leinenger'in  kültürel bakımda evrensellik ve farklılıklar  teorisi doğrultusunda Kültürel bakımı koruma ve/veya sürdürme, Kültürel bakımda uzlaşma ve/veya anlaşmaya varma ve Kültürel bakımı yeniden yapılandırma ve/veya yeniden modelleme modları kullanılarak hemşirelik bakımı uygulandı. Sonuç olarak, I.M uygulanan bu girişimlerden dolayı kendini daha hissettiğini, sağlık kuruluşuna başvurmaktan dolayı sıkıntısının azaldığını, ilaçlarını düzenli olarak kullandığını, kendine fiziksel ve ruhsal olarak iyi hissettiğini ifade etti. Böylece farklı kültürden bir hastaya hemşirelik bakımı uygulanırken Leininger'in kültürel bakımda evrensellik ve farklılıklar modeli temel alınarak uygulanırsa olumlu sonuçlar elde edebileceğimiz anlaşılmıştır.
Downloads
Download data is not yet available.
References
Narayanasamy A. Transcultural nursing: how do nurses respond to cultural needs? Br J Nurs 2003;12(3):185-94
Spector RE. Cultırel diversity in helath&illness. New Jersey: Prentice Hall Health; 2000.
Mazanac P, Kitzes J. Cultural Competence in Hospice and Palliative Care. İn Hospice and Palliative Care. 2003;177-91
Williamson M, Harrison L. Providing culturally appropriate care: a literatüre rewiew. Int J Nurs Stud 2010;47:761-9
Leinenger MM, McFarland MR. Culture care diversity and universality: a worldwide nursing theory. 2nd ed., Boston: Jones&Barlett Publishers;2005.
Transcultural Nursing Society(TCNS) website, http://www.tcns.org/
Karadağ A., Çalışkan N., Baykara Z.G. Hemşirelik Teori ve Modelleri. Madeleine Leinenger Modeli. 2017
Marelli AJ, Lonescu-lttu R, Mackie AS, Guo L, Dendukuri N, Kaouache M. Lifetime prevelance of congenital heart disease in the general population from 2000 to 2010. Circulation,2014;130(9):749-56.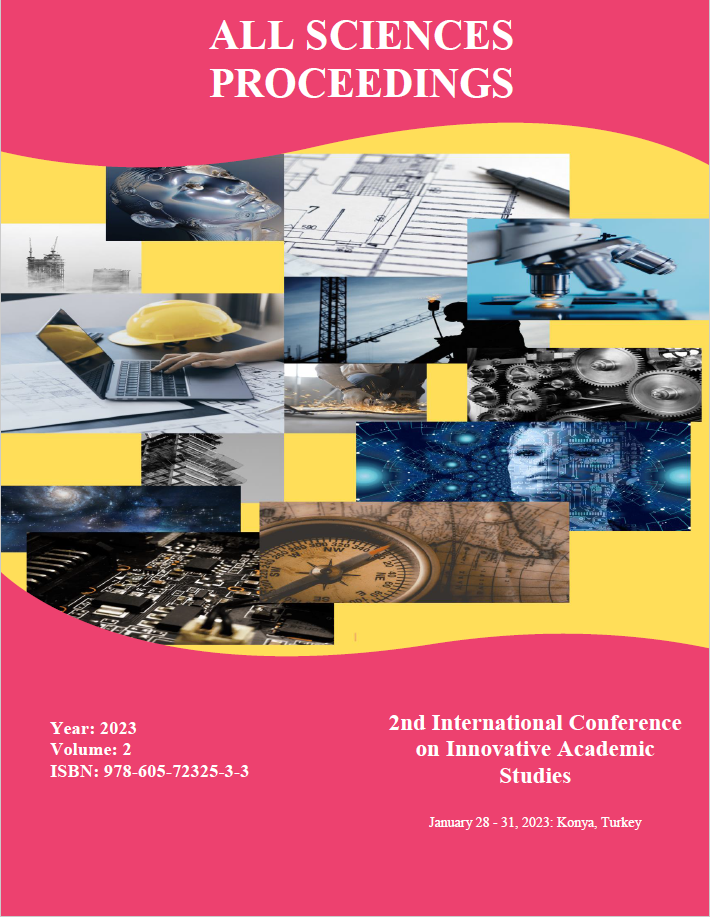 Downloads
How to Cite
Duzcu, T., & Özel , Y. (2023). Konjenital Kalp Hastalığı Olan Farklı Kültürden Bir Öğrencinin Madeleine Leinenger Modeline Göre Değerlendirilmesi: Olgu sunumu. International Conference on Innovative Academic Studies, 2, 1–5. Retrieved from https://as-proceeding.com/index.php/icias/article/view/5
Conference Proceedings Volume
Section
Conference Papers
License
Copyright (c) 2023 All Sciences Proceedings
This work is licensed under a Creative Commons Attribution 4.0 International License.