Beyond Noise Reduction: Designing for Positive Acoustic Experiences in Cities

Abstract views: 24 /

PDF downloads: 12
Keywords:
Acoustic Comfort, Urban Well-Being, Auditory Environment, Urban Soundscapes, Noise Pollution.
Abstract
Noise pollution in modern urban settings poses a substantial threat, far exceeding a basic annoyance as it undermines the overall wellness and standard of living experienced by those residing in metropolitan areas. Traditional mitigation strategies have often been narrowly focused on the reduction of noise levels. However, this perspective misses a crucial aspect: the broader need to design urban spaces that provide enriching and positive acoustic experiences. This article delves deeply into the intricate dimensions of soundscapes within urban contexts. Through a comprehensive exploration of varied global case studies, we showcase innovative urban design interventions that effectively balance noise control with the enhancement of the broader auditory environment. These interventions encompass a wide array of strategies, from the incorporation of natural elements such as parks and water features, which contribute both visual beauty and auditory calm, to the utilization of advanced sound-absorbing materials and architectural techniques. Furthermore, we highlight the emerging trend of creating designated quiet zones within bustling city centers, providing residents with pockets of tranquility amidst urban chaos. Through a comprehensive analysis and aggregation of the available evidence, our study strongly highlights the indispensable necessity for city architects, lawmakers, and builders to adopt a more encompassing and cooperative method regarding acoustic planning within urban environments. Such an approach should not only prioritize noise reduction but also recognize and amplify the potential of sound as a foundational and enriching component of urban life. Through this, cities can evolve into spaces that minimize auditory disturbances and actively enhance the well-being of their residents by providing positive acoustic experiences.
Downloads
Download data is not yet available.
References
R. Lyon, Designing for Product Sound Quality, CRC Press, June 6, 2000.
G. C. Cavell, National Association of Broadcasters Engineering Handbook, Taylor & Francis, July 28, 2017.
J. Kang, "Promoting Healthy and Supportive Acoustic Environments: Going beyond the Quietness," in Francesco Aletta, MDPI, November 4, 2020.
G. A. Elam, "Acoustically Sensitive Large Assembly Spaces at School: An Elementary School Retrofit and Expansion," University of Washington Libraries, January 1, 2020.
O. Baverel, "Impact: Design With All Senses," in Proceedings of the Design Modelling Symposium, Berlin 2019, Christoph Gengnagel, Springer Nature, August 28, 2019.
O. Sibony, Noise: A Flaw in Human Judgment, Daniel Kahneman, Little, Brown, May 18, 2021.
J. Kang, Urban Sound Environment, CRC Press, September 13, 2006.
H. Sun, "Ocean observation based on underwater acoustic technology," in Xuebo Zhang, Frontiers Media SA, July 4, 2023.
J. Xiao, "Handbook of Research on Perception-Driven Approaches to Urban Assessment and Design," in Francesco Aletta, IGI Global, January 5, 2018.
C. Cance, "Sensory Experiences: Exploring Meaning and the Senses," in Danièle Dubois, John Benjamins Publishing Company, December 15, 2021.
D. Pickard, Urban Agriculture for Improving the Quality of Life: Examples from Bulgaria, Springer Nature, May 3, 2022.
R. Patel, Architectural Acoustics: A Guide to Integrated Thinking, Routledge, March 19, 2020.
S. Roydhouse, Find and Seek Singapore, ORO Editions, October 10, 2017.
R. Hammond, High Line: The Inside Story of New York City's Park in the Sky, Joshua David, Farrar, Straus andGiroux, October 11, 2011
G. R. Lovegrove, Remaking the City Street Grid: A Model for Urban and Suburban Development, Fanis Grammenos, McFarland, March 7, 2015.
G. B. Hua, Smart Cities as a Solution for Reducing Urban Waste and Pollution, IGI Global, June 20, 2016.
M. Zadshir, Building Integrated Photovoltaic Thermal Systems: Fundamentals, Designs, and Applications, Huiming Yin, Academic Press, October 26, 2021.
R. Null, Universal Design: Principles and Models, CRC Press, September 26, 2013.
E. TarBush, Exploring Strategies for Soundscape Design in Landscape Architecture, University of Guelph, January 1, 2017.
J. Kang, "Promoting Healthy and Supportive Acoustic Environments: Going beyond the Quietness," MDPI, November 4, 2020.
E. R. Nicchi, Noise Pollution: Sources, Effects on Workplace Productivity and Health Implications, Nova Science Publishers, Incorporated, January 1, 2014.
Department of Human Services, Occupational Noise Exposure: Criteria for a Recommended Standard, Centers for Disease Control and Prevention, CreateSpace Independent Publishing Platform, February 19, 2014.
D. Owen, Volume Control: Hearing in a Deafening World, Penguin, October 29, 2019.
A. Marcus, "Design, User Experience, and Usability: Interactive Experience Design," in 4th International Conference, DUXU 2015, Held as Part of HCI International 2015, Los Angeles, CA, USA, August 2-7, 2015, Proceedings, Part III, Springer, July 20, 2015.
E. J. Flies, "Urban Ecology and Human Health," in Ian Douglas, Frontiers Media SA, November 16, 2022.
J. H. Spangenberg, "Scenarios and Indicators for Sustainable Development–Towards A Critical Assessment of Achievements and Challenges," MDPI, March 14, 2019.
J. Yu-Ming Lizeray, Reimagining Singapore: Self and Society in Contemporary Art, Chee-Hoo Lum, Springer Nature, August 1, 2023.
J. David, Reclaiming the High Line: A Project of the Design Trust for Public Space, with Friends of the High Line, Ivy Hill Corporation, January 1, 2002.
R. Plunz and E. Moskalenko, "The High Line," Landscape Performance Series, Landscape Architecture Foundation, 2017.
Bloomberg Markets, "The High Line's Biggest Issue—And How Its Creators Are Learning From Their Mistakes," February 7, 2017.
BikePortland, "The Monday Roundup: L.A. story, Good Company, harms race and more," September 14, 2020.
NOEMA, "The Sounds of Invisible Worlds," June 20, 2023.
J. Jabłońska, "Urban Design and Noise Limitation-Case Study," Builder, vol. 26, 2022.
M. Holden, Acoustics of Multi-Use Performing Arts Centers, CRC Press, November 4, 2015.
J. K. A. Tan, Y. Hasegawa, S. K. Lau, and S. K. Tang, "The effects of visual landscape and traffic type on soundscape perception in high-rise residential estates of an urban city," Applied Acoustics, vol. 189, p. 108580, 2022.
J. Y. Hong and K. H. Chong, "Designing Public Soundscapes through Social Architecture and Soundscape Approaches: Reflective Review of
Architectural Design Studio," Sustainability, vol. 15, no. 16, p. 12399, 2023.
J. Kang, "Soundscape in city and built environment: Current developments and design potentials," City and Built Environment, vol. 1, no. 1, p. 1, 2023.
J. K. A. Tan, Y. Hasegawa, and S. K. Lau, "A comprehensive environmental sound categorization scheme of an urban city," Applied Acoustics, vol. 199, p. 109018, 2022.
S. Torresin, R. Albatici, F. Aletta, F. Babich, and J. Kang, "Assessment methods and factors determining positive indoor soundscapes in residential buildings: A systematic review," Sustainability, vol. 11, no. 19, p. 5290, 2019.
J. Chen and H. Ma, "A conceptual model of the healthy acoustic environment: elements, framework, and definition," Frontiers in Psychology, vol. 11, p. 554285, 2020.
S. Lenzi, J. Sádaba, and P. Lindborg, "Soundscape in times of change: Case study of a city neighborhood during the COVID-19 lockdown," Frontiers in Psychology, vol. 12, p. 570741, 2021.
V. Fraisse, D. Steele, S. d'Ambrosio, and C. Guastavino, "Shaping urban soundscapes through sound art: a case study in a public square exposed to construction noise," in International Workshop on Haptic and Audio Interaction Design.
K. Winkelsesser, "Royal Opera House, 2011 Muscat, Oman: Architect, WATG," in Modern Theatres 1950–2020, pp. 491-493, Routledge, 2021.
V. Tuzlukova and S. R. Mehta, "Englishes in the cityscape of Muscat," World Englishes, vol. 40, no. 2, pp. 231-244, 2021.
R. M. Rehan, "The phonic identity of the city urban soundscape for sustainable spaces," HBRC journal, vol. 12, no. 3, pp. 337-349, 2016.
J. Y. Hong and J. Y. Jeon, "Designing sound and visual components for enhancement of urban soundscapes," The Journal of the Acoustical Society of America, vol. 134, no. 3, pp. 2026-2036, 2013.
M. D. Fowler, "Soundscape as a design strategy for landscape architectural praxis," Design studies, vol. 34, no. 1, pp. 111-128, 2013.
P. Karantonis, The Legacy of Opera: Reading Music Theatre as Experience and Performance, Dominic Symonds, Rodopi, January 1, 2013.
J. Y. Jeon, H. I. Jo, and K. Lee, "Potential restorative effects of urban soundscapes: Personality traits, temperament, and perceptions of VR urban environments," Landscape and Urban Planning, vol. 214, p. 104188, 2021.
G. Cerwén, "Listening to Japanese gardens II: expanding the soundscape action design tool," Journal of Urban Design, vol. 25, no. 5, pp. 607-628, 2020.
I. A. Shport, "Perception of acoustic cues to Tokyo Japanese pitch-accent contrasts in native Japanese and naive English listeners," The Journal of the Acoustical Society of America, vol. 138, no. 1, pp. 307-318, 2015.
M. Nagata, S. Ikeda, and K. Oguchi, "Acoustical design of Tokyo Geijutsu Bunka‐Kaikan. Part 2. Room acoustical design of the large hall," The Journal of the Acoustical Society of America, vol. 84, no. S1, pp. S130-S130, 1988.
D. E. Novak, "A Beautiful Noise Emerging from the Apparatus of an Obstacle: Trains and the Sound of the Japanese City."
S. Serafin, "Sonic Interactions in Virtual Environments," in M. Geronazzo, Springer Nature, October 13, 2022.
J. Kang, "Soundscape in City and Built Environment: Current Developments and Design Potentials," City and Built Environment, vol. 1, no. 1, p. 1, 2023.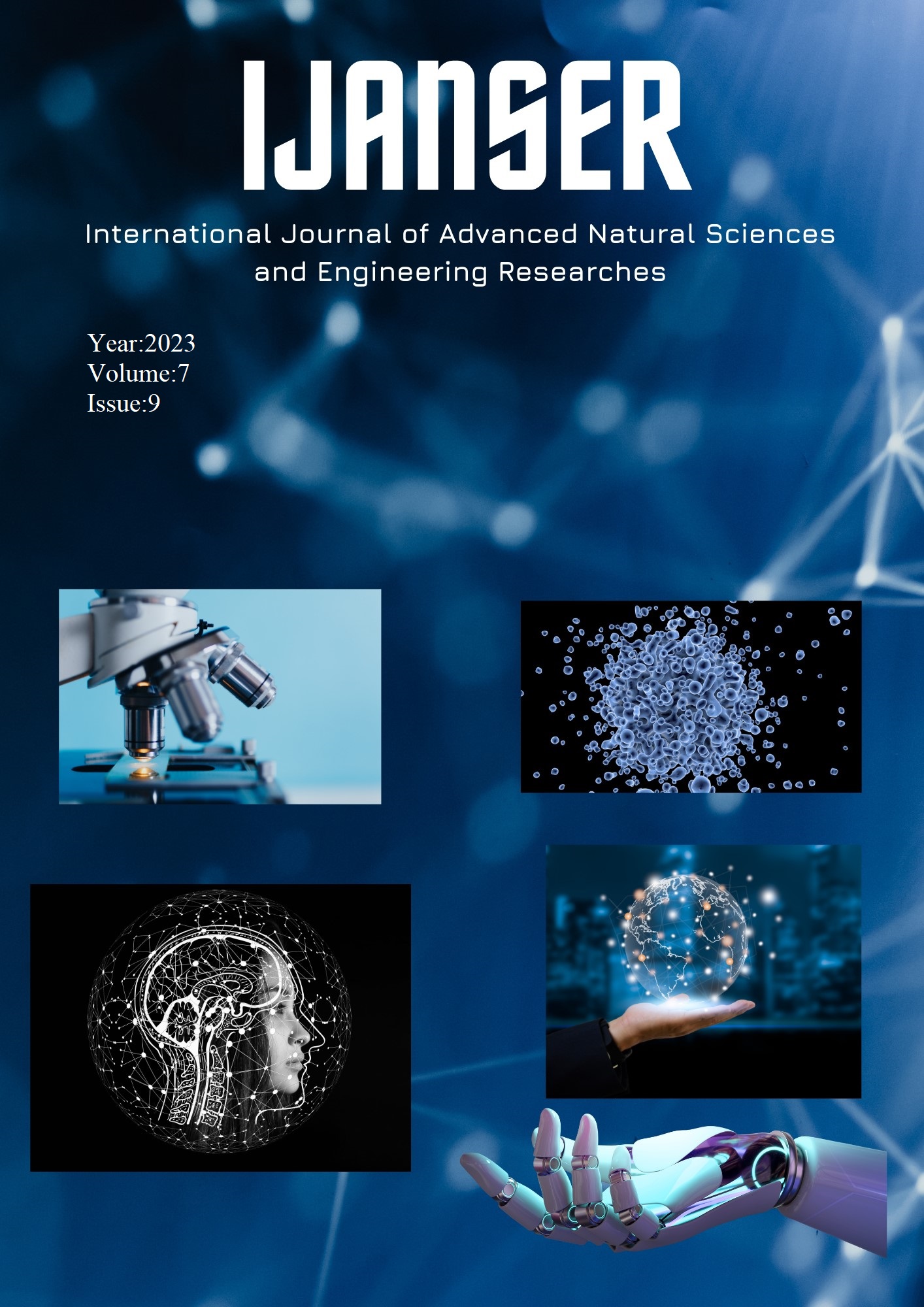 Downloads
How to Cite
Sami, M., & Sara, K. (2023). Beyond Noise Reduction: Designing for Positive Acoustic Experiences in Cities . International Journal of Advanced Natural Sciences and Engineering Researches, 7(9), 222–233. https://doi.org/10.59287/ijanser.1538
Conference Proceedings Volume