Durak Sayısı Üzerinden Eşit Yaşlanmaya İlişkin Dubleks Asansör Trafik Kontrol Stratejisi

Abstract views: 37 /

PDF downloads: 18
Keywords:
Dubleks Asansör, Eşit Yaşlanma, Asansör Trafiği, Çağrı Toplama
Abstract
Günümüzde Asansörler, dikey binalarda yaygın ve sofistike bir insan taşıma sistemidir. Özellikle ticaret merkezleri ve oteller gibi kalabalık binalarda, günlük yaşam akışını kontrol etmek için birden fazla birbirleri ile etkileşimli asansörler bulunmaktadır. Çoklu asansörler insan taşımanın yanında zamandan ve enerjiden tasarruf etmeyi de hedeflerler. Siz butona bastığınızda hangi asansör size gelmeli sorusunun farklı cevapları olabilir. Bununla birlikte, çalışan her asansör bakım süresine biraz daha yaklaşır ve yaşlanır. Siz farkında olmadan zaman içinde asansör baştan sonra parça parça değişmiş olur. Öyle bir an gelir ki ilk takılan komponentlerden hiçbirisi olmaz. Bu çalışmada asansörün size uzaklığını ve yaşlılığını temel alan bir çalışma felsefesi geliştirilmiştir. Asansörlerin çalışma miktarları kayıt altındadır ve hangi asansörün eskidiği bilgisi silinmez. Böylece çalışarak yaşlanma dengeye gelinceye kadar metot, yaşlı modeli daha az yoran bir algoritmayı tetiklemiş olur. Çalışmanın sonunda, eşit yaşlanma, zaman ve enerji tasarrufunu hedef alan bir metot geliştirilmiştir.   
Downloads
Download data is not yet available.
References
Vogel, Robert M. "Otis: Giving Rise to the Modern City." (2002): 431-433.
Bix, Amy. "Otis: Giving Rise to the Modern City. By Jason Goodwin. Chicago: Ivan R. Dee, 2001. xv+ 286 pp. Illustrations, appendix, index. Cloth, $27.95. ISBN 1-56663-385-0." Business History Review 76.3 (2002): 587-589.
Gann, David. Building innovation: complex constructs in a changing world. Thomas Telford, 2000.
Watts, Steve, Neal Kalita, and Michael Maclean. "The economics of super‐tall towers." The Structural Design of Tall and Special Buildings 16.4 (2007): 457-470.
https://www.resmigazete.gov.tr/eskiler/2007/01/20070131-7.htm son_erişim:04.10.2023
Barney, Gina, and Lutfi Al-Sharif. Elevator traffic handbook: theory and practice. Routledge, 2015.
Peters, Richard D. "Lift traffic analysis: Formulae for the general case." Building Services Engineering Research and Technology 11.2 (1990): 65-67.
So, Albert, Lutfi Al-Sharif, and Ahmad Hammoudeh. "Traffic analysis of a simplified two-dimensional elevator system." Building Services Engineering Research and Technology 36.5 (2015): 567-579.
So, A. T. P., et al. "New developments in elevator traffic analysis." Elevator Technology 5 Proceedings of Elevcon 1993. Vol. 5. No. 1. 1993.
Markos, Panagiotis A., and Argyris J. Dentsoras. "An integrated mathematical method for traffic analysis of elevator systems." Applied Mathematical Modelling 105 (2022): 50-80.
Imrak, C. Erdem, and Mustafa Ozkırım. "The modelling and simulation of elevator group control sytems for public service buildings." IFAC Proceedings Volumes 36.7 (2003): 145-150.
Gray, Lee. "The History of Operatorless Elevators: Push Button Control 1886-1895." History (2023).
Van, Lan-Da, et al. "An intelligent elevator development and management system." IEEE Systems Journal 14.2 (2019): 3015-3026.
Sorsa, Janne, Henri Hakonen, and M. Siikonen. "Elevator selection with destination control system." Elevator World 54.1 (2006): 148.
Siikonen, Marja-Liisa. "Elevator traffic simulation." Simulation 61.4 (1993): 257-267.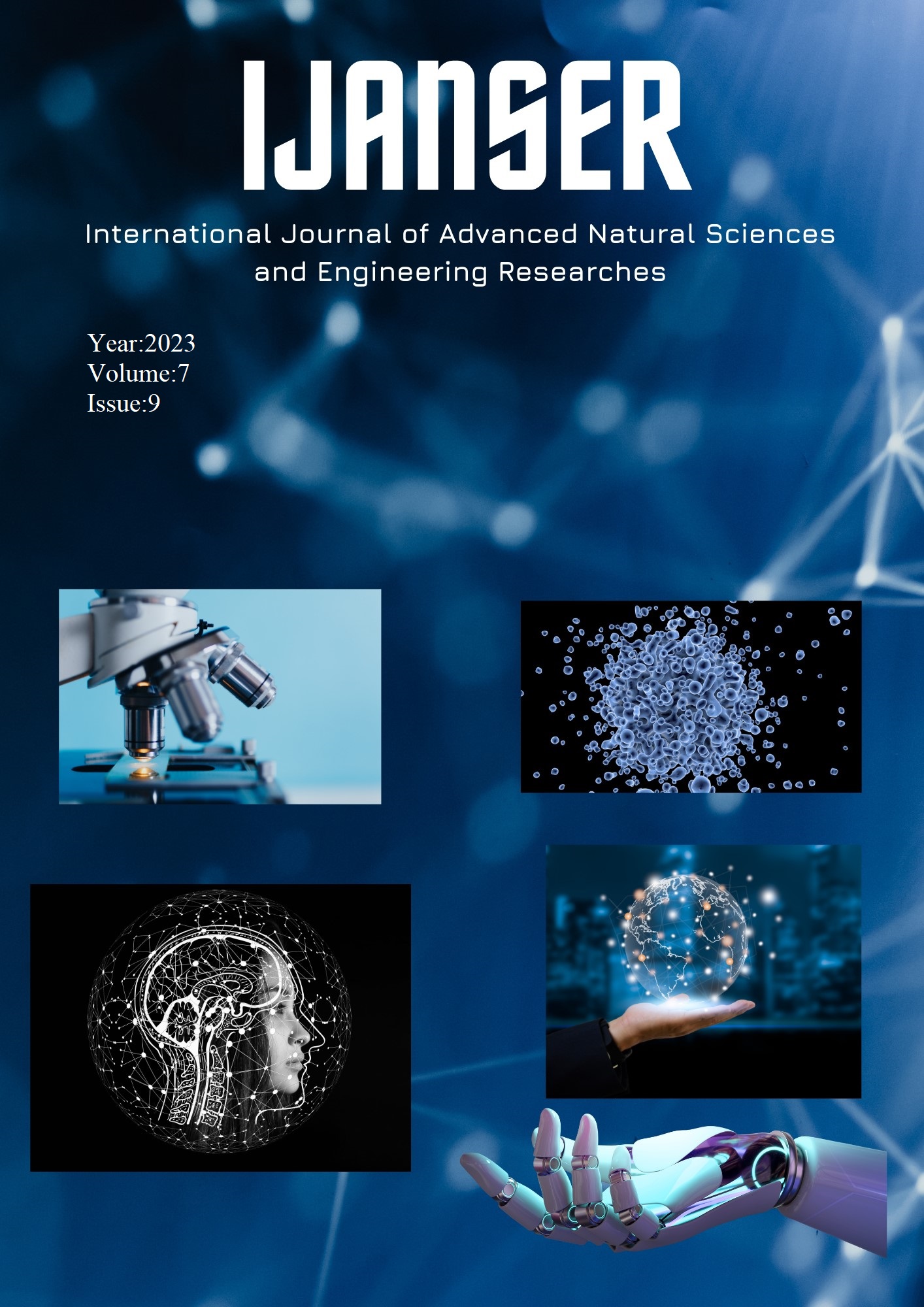 Downloads
How to Cite
Atakay, D., Bozkurt, B., Bayrak, İbrahim H., & Nalbant, B. (2023). Durak Sayısı Üzerinden Eşit Yaşlanmaya İlişkin Dubleks Asansör Trafik Kontrol Stratejisi . International Journal of Advanced Natural Sciences and Engineering Researches, 7(9), 282–285. https://doi.org/10.59287/ijanser.1647
Conference Proceedings Volume