Otomotiv Endüstrisinde Döngüsel Ekonomi ve Elektrikli Araçlar İçin Yaşam Döngüsü Değerlendirmesinin İncelenmesi

Abstract views: 0 /

PDF downloads: 0
Keywords:
Döngüsel Ekonomi, Yaşam Döngüsü Değerlendirmesi, Karbon Nötr, Sürdürülebilir Üretim, Elektrikli Araçlar
Abstract
Dünya kaynaklarının hızla tüketildiği günümüzde döngüsel ekonomi kavramı gün geçtikçe daha çok önem kazanmaya başlamıştır. Ürünlerin imalat aşamalarında en az hammadde kullanımını amaçlayan ve sürdürülebilir bir endüstriyel sektör olarak tanımlanabilmektedir. Son birkaç yılda hem sosyal faydaları hem de çevre korumayı iyileştirdiği için araştırmacılar tarafından da dikkat çekmektedir. Karbon-nötr olma hedefini amaçlayan Avrupa Komisyonu 2019 yılında Avrupa Yeşil Mutabakatı anlaşmasını imzalamıştır. Ülkemizde de 2021 yılında imzalanan Yeşil Mutabakat,  2050 yılına kadar karbon emisyonundan arınmayı hedeflemektedir. Avrupa Mutabakatı kapsamında da kullanımının ve etkilerinin araştırılması yaygınlaşan elektrikli araçlar günümüzde de oldukça ilgi görmeye başlamıştır. Sera gazı azaltım hedefleri konusunda önemli katkı sunacağı düşünülen elektrikli araçların yaşam döngüsü değerlendirmesi yoluyla tüm çevresel etkileri belirlenerek değerlendirme ve yorumlama aşamaları sonunda elde edilmektedir. Çalışmada incelenen bazı literatür sonuçlarında bu araçların çevresel etkileriyle ilgili farklı sonuçlar olduğu görülmüştür. Elektrikli araçların sera gazı emisyonuna neden olan temel faktörün aracın üretim aşamasında ortaya çıktığı görülmüştür. Ancak mevcut durumun iyileştirilmesi için yapılacak yeni çalışmalar ve farklı teknolojik gelişmelerle bu etkilerin azaltılabileceği düşünülmektedir. Ülkemizde ve dünyada hem döngüsel ekonomi hem de elektrikli araçlara geçiş konusunda önemli katkı sağlayacak adımlar atılmakta ve politika çalışmaları yakından takip edilmektedir.
References
I. C. De los Rios and F. J. S. Charnley, "Skills and capabilities for a sustainable and circular economy: The changing role of design,"Journal of Cleaner Production, vol. 160, pp. 109-122, 2017.
M. Bernon, B. Tjahjono and E. F. Ripanti, "Aligning retail reverse logistics practice with circular economy values: an exploratory framework,"Production Planning & Control, vol. 29, pp. 483-497, 2018.
I. S. Jawahir and R. Bradley, "Technological elements of circular economy and the principles of 6R-based closed-loop material flow in sustainable manufacturing,"Procedia Cirp, vol. 40, pp. 103-108, 2016.
K. Govindan and M. Hasanagic, "A systematic review on drivers, barriers, and practices towards circular economy: a supply chain perspective,"International Journal of Production Research, vol. 56, pp. 278-311, 2018.
P. Schroeder, P. Dewick, S. Kusi-Sarpong and J. S. Hofstetter, "Circular economy and power relations in global value chains: tensions and trade-offs for lower income countries,"Resources, Conservation and Recycling, vol. 136, pp. 77-78, 2018.
M. Yang, "Palie Smart, Mukesh Kumar, Mark Jolly, and Steve Evans. 2018."Product-Service Systems Business Models for Circular Supply Chains.","Production Planning & Control, vol. 29, pp. 498-508,
Y. Geng, J. Sarkis, S. Ulgiati and P. Zhang, "Measuring China's circular economy,"Science, vol. 339, pp. 1526-1527, 2013.
M. Smol, P. Marcinek, J. Duda and D. Szołdrowska, "Importance of Sustainable Mineral Resource Management in Implementing the Circular Economy (CE) Model and the European Green Deal Strategy,"Resources, vol. 9, pp. 55, 2020.
G. Tóth, "Circular economy and its comparison with 14 other business sustainability movements,"Resources, vol. 8, pp. 159, 2019.
E. Commission, Communication from the commission Europe 2020: A strategy for smart, sustainable and inclusive growth. 2010.
D. C. Deselnicu, G. Militaru, V. Deselnicu, G. Zăinescu and L. Albu In Towards a circular economy–a zero waste programme for Europe, Proceedings of the 7th International Conference on Advanced Materials and Systems, Bucharest, Romania, 2018; 2018; pp 18-20.
E.-E. Commission, "Closing the loop—An EU action plan for the circular economy,"Communication from the commission to the European parliament, the council, the European economic and social committee and the committee of the regions, Brussels, Belgium, vol., pp., 2015.
C. o. E. C. European Commission, Communication No. 29, 2018. Monitoring Framework for the Circular Economy. In Commission of European Communities Brussels, Belgium: 2018.
C. E. A. Plan, "For a cleaner and more competitive Europe,"European Commission (EC): Brussels, Belgium, vol., pp. 28, 2020.
G. Bressanelli, F. Adrodegari, M. Perona and N. Saccani, Exploring how usage-focused business models enable circular economy through digital technologies. Sustainability, 10 (3), 639. In 2018.
J. W. McAuley, "Global sustainability and key needs in future automotive design,"Environmental science & technology, vol. 37, pp. 5414-5416, 2003.
A. Mayyas, A. Qattawi, M. Omar and D. Shan, "Design for sustainability in automotive industry: A comprehensive review,"Renewable and Sustainable Energy Reviews, vol. 16, pp. 1845-1862, 2012.
P. Egede, T. Dettmer, C. Herrmann and S. Kara, "Life Cycle Assessment of Electric Vehicles – A Framework to Consider Influencing Factors,"Procedia CIRP, vol. 29, pp. 233-238, 2015.
F. G. ÜÇTUĞ, "Türkiye'de Üretilen Elektrikli ve İçten Yanmalı Motorlu Araçların Karşılaştırmalı Çevresel Yaşam Döngüsü Değerlendirmesi,"Düzce Üniversitesi Bilim ve Teknoloji Dergisi, vol. 10, pp. 1701-1714,
X. Xia and P. Li, "A review of the life cycle assessment of electric vehicles: Considering the influence of batteries,"Science of The Total Environment, vol. 814, pp. 152870, 2022.
W. J. Smith, "Can EV (electric vehicles) address Ireland's CO2 emissions from transport?,"Energy, vol. 35, pp. 4514-4521, 2010.
A. E. Sünbül, "Otomotiv endüstrisinde geri dönüşüm-ürün yaşam döngü değerlendirmesi (LCA)," vol., pp., 2006.
I. S. Organization, ISO 14040: Environmental Management-Life Cycle Assessment-Principles and Framework. 1997.
E. M. C. AssessmentRequirements, "Guidelines (ISO 14044),"International Organization for Standardization (ISO): Geneva, Switzerland, vol., pp., 2006.
S. Verma, G. Dwivedi and P. Verma, "Life cycle assessment of electric vehicles in comparison to combustion engine vehicles: A review,"Materials Today: Proceedings, vol. 49, pp. 217-222, 2022.
J. Brady and M. O'Mahony, "Travel to work in Dublin. The potential impacts of electric vehicles on climate change and urban air quality,"Transportation research part D: transport and environment, vol. 16, pp. 188-193, 2011.
T. R. Hawkins, B. Singh, G. Majeau‐Bettez and A. H. Strømman, "Comparative environmental life cycle assessment of conventional and electric vehicles,"Journal of industrial ecology, vol. 17, pp. 53-64, 2013.
U. Mildenberger and A. Khare, "Planning for an environment-friendly car,"Technovation, vol. 20, pp. 205-214, 2000.
M. A. Omar, The automotive body manufacturing systems and processes. John Wiley & Sons: 2011.
M. F. Ashby, Materials and the environment: eco-informed material choice. Elsevier: 2012.
J. E. Boon, J. A. Isaacs and S. M. Gupta, "Economic impact of aluminum‐intensive vehicles on the US automotive recycling infrastructure,"Journal of Industrial Ecology, vol. 4, pp. 117-134, 2000.
N. Warburg, C. Herrmann and J. Chiodo In Accompanying the (re) design of products with environmental assessment (DfE) on the example of ADSM, Proceedings of the 2001 IEEE International Symposium on Electronics and the Environment. 2001 IEEE ISEE (Cat. No. 01CH37190), 2001; IEEE: 2001; pp 202-207.
S. R. Sopher In Automotive interior material recycling and design optimization for sustainability and end of life requirements, Society of plastics engineers (SPE)-global plastic and environment conference (GPEC), 2008; 2008.
N. Kanari, J.-L. Pineau and S. Shallari, "End-of-life vehicle recycling in the European Union,"Jom, vol. 55, pp. 15-19, 2003.
A. Mayyas, Q. Shen, A. Mayyas, D. Shan, A. Qattawi and M. Omar, "Using quality function deployment and analytical hierarchy process for material selection of body-in-white,"Materials & Design, vol. 32, pp. 2771-2782, 2011.
E. R. Fuchs, F. R. Field, R. Roth and R. E. Kirchain, "Strategic materials selection in the automobile body: Economic opportunities for polymer composite design,"Composites science and technology, vol. 68, pp. 1989-2002, 2008.
M. Calisto Friant, W. J. V. Vermeulen and R. Salomone, "Analysing European Union circular economy policies: words versus actions,"Sustainable Production and Consumption, vol. 27, pp. 337-353, 2021.
A. Jayal, F. Badurdeen, O. Dillon Jr and I. Jawahir, "Sustainable manufacturing: Modeling and optimization challenges at the product, process and system levels,"CIRP Journal of Manufacturing Science and Technology, vol. 2, pp. 144-152, 2010.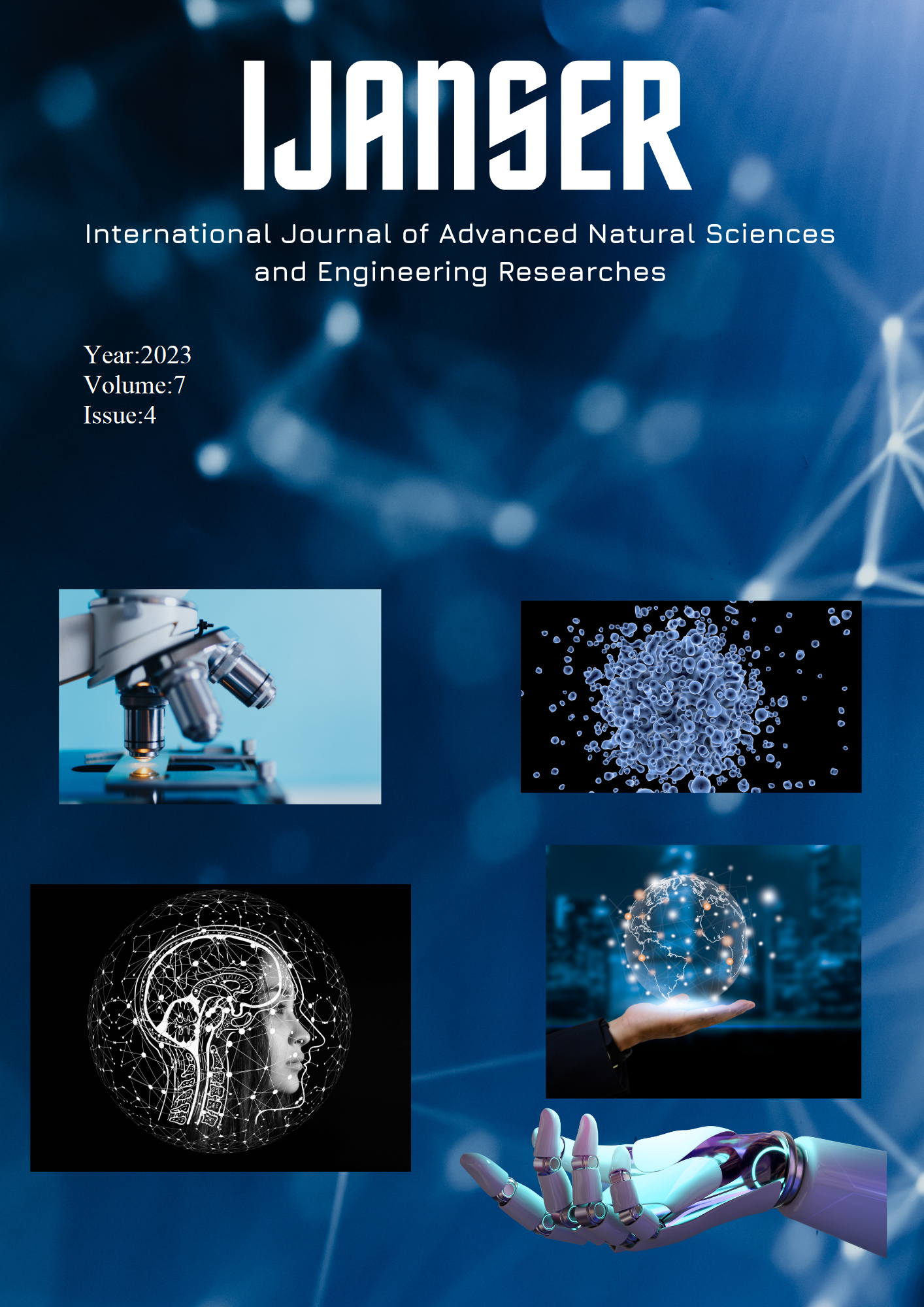 Downloads
How to Cite
GÜNASLAN, S., EROL NALBUR, B., & CİNDORUK, S. (2023). Otomotiv Endüstrisinde Döngüsel Ekonomi ve Elektrikli Araçlar İçin Yaşam Döngüsü Değerlendirmesinin İncelenmesi . International Journal of Advanced Natural Sciences and Engineering Researches, 7(4), 313–318. https://doi.org/10.59287/ijanser.722